Features
1024 bit encryption secure file transfer from phone to HQ
Digital fingerprinting of files to guarantee authenticity
Multiple US and Global Patent Pending status
Data capture

Caller ID
Dialed Digits
GPS location at start and end of call

Android OS support
Browser based playback
Ability to have mobile phone recordings on same solution that records your wired telephones. A single recorder that can handle VOIP, PSTN, Radio, Trunk Radio, and now mobile phones!
Advanced Features
Speech Analytics

Have software "listen" to the content of all of your calls.
Trends within calls are automatically reported so lead investigators may find commonality between cases thought unrelated.
Immensely useful for detective bureaus that exist across multiple precincts. This allows investigators to easily find linked cases.
With Silent Partner, investigators can: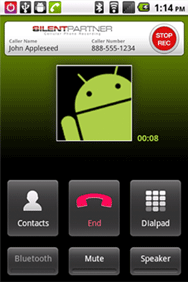 Record only the calls they want. The application can be configured to:
record all calls
record based on pressing start
or record all calls with the option to stop recording.
Improve Case Management.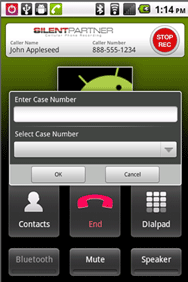 Case numbers can be assigned to any call or interview from a drop down list or manually entered after a call.
Easily organizes all mobile audio for a single case.
Interview and upload automatically.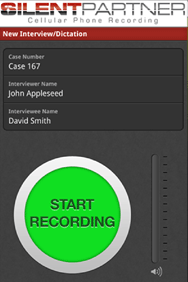 Eliminate pocket recorders and have your interviews upload automatically to the same playback database as your telephone and mobile phone calls.
Operate Covertly.
The application can be set to run covertly for undercover officers, confidential informants, etc to capture all audio and data and transfer immediately to your facility.